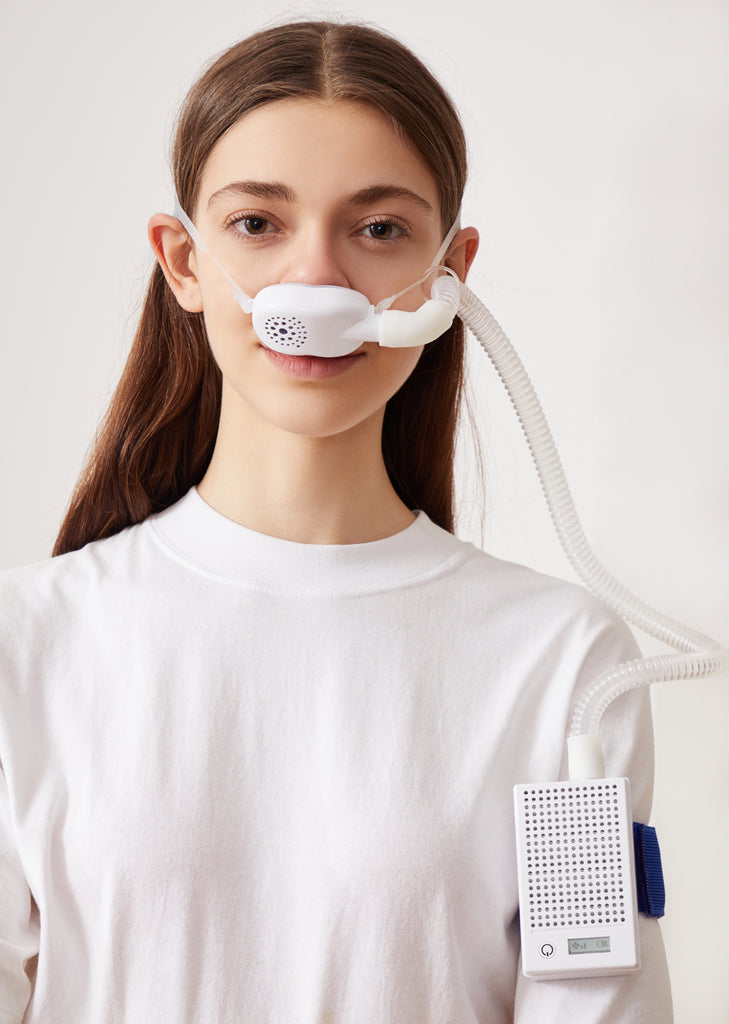 HEPA H12 (KN99) Portable Purifier with Nose Mask: remove odor,VOC's, smoke ...
$99.99
HEPA H12 Portable Purifier With Nose Mask


Model: AF-NM-N99 
(The application had been accepted for Medical Device Establishment Licence  (MEDL) by Health Canada in 2021)
 Air Purifier
HEPA H12 (KN99) Filter Capturing Airborne Virus-COVID-19
This is a air purifier with HEPA H12(KN99) air filter and activated carbon  fiber to brock PM2.5 by 99.2%, absorb the VOCs, pollen allergen and Odors. There is 3 levels to control the air flow speed. The d-evice is running 11-15 hours after battery charge.hou 
Model: AF-NM-N99
Input voltage/currency: 3.7V,1A  USB connect
Current capacity:   3200maH

Purification filter: Silver ion added HEPA H12 filter and activated carbon filter (timed replacement)

Filtering efficiency: >99% filter PM2.5 (GB 2626-2019)

Bacteriostasis effect: Staphylococcus aureus (ATCC6538) bacteria reduction rate of 99%. The rate of bacterial reduction of e. coli (ATCC25922) is 94.25% (Average).
It is antibiosis as well.

Air volume: 3-5 m3/h

Mute indicator: <30db (0.5m)
Weight: 250g
Battery duration time:  9-14 hours
Nose Mask with air tube :(Model:NM-V3782)

There are two valves to switch the air inflow and outflow inside the nose mask. There are 3 nasal pillows. The nasal pillow and headgear are same as same as Silver Impregnated Carbon Nose Masks one.
No leaking, no fog, medical silicon to make both nasal mask and headgear.
Maintenance:
Normally the filter can be used for 3-6 months, the battery can be recharged more than 500 times. There is a tube nasal cover shell and trachea can be washed with water, reused for 2 years. Silicone umbrella valve sheets in the nose cover can be used 200,000 times.  It is recommended that the nasal pillow be replaced every six months, 

 Test Methods
GB/T 14295-2019 Air Filter
GB/T 34012-2017 Air cleaner for ventilation system
EN 61000-6-3: 2007+A1
EN61000-6-1:2007
GB 21551.2-2010
GB 2626-2019
Test Results Summary:
Air volume                                                            1.92CMA
Air resistance (air volume 32.5M3/H)                29.1Pa
PM2.5 Particle Filtration Efficiency                    >99% (GB2626-2019)
Killing rate for Bacteria
  Escherichia Coli                                                  99.99%
  Staphylococcus aureus                                      99.99%
Bacterial Filtration Effectiveness
  Staphylococcus aureus                                      95.95%
Current capacity                                                  3200mAh
Input voltage/currency                                        3.7v, 1A

Air volume:                                                           3-5 m3/h

Mute indicator:                                                   <30db (0.5m)
Weight:                                                              250g
Battery duration time:                                        9-14 hours